LAST DAY OR SERVICE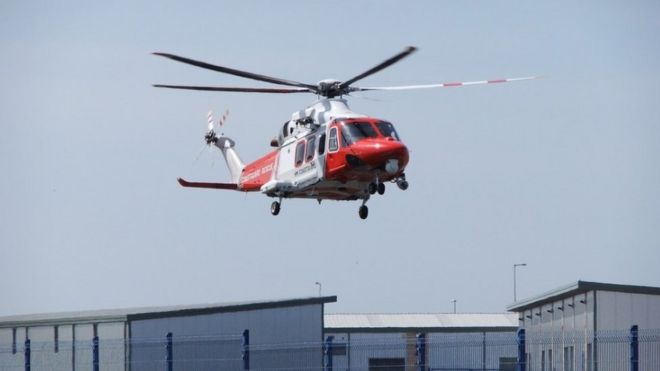 A coastguard search and rescue helicopter will be retired later despite a campaign and 100,000-signature petition to save the service.
The Portland helicopter has been rescuing people from across the South West with the Maritime and Coastguard Agency (MCA) since 1995.
The area will now be served by a new £20m-helicopter from a base at Lee-on-Solent in Hampshire.
The MCA said it was 15 minutes flying time from Portland.
The new Leonardo AW189 helicopter started operational duties in April and is fitted with more modern equipment, the agency said.
The Portland area will have back-up from helicopters in Cornwall and South Wales.
It is part of a new restructuring of the MCA which will see a fleet of search and rescue helicopters operate from 10 bases.
'Modernise'
The government, which is investing £1.9bn in search and rescue helicopter services, previously said the changes would "modernise" the service and cut costs.
More than 100,000 people signed a petition in 2014 calling for the Portland helicopter to be retained.
It followed a campaign led by Conservative MP for South Dorset Richard Drax.
Last year, the MCA was sent to 526 search and rescues in the South West of England – making it one of the busiest regions in the country, according to figures from the Department for Transport.
Portland was the least busy service in the country with 123 call-outs. However, it only operates 12 hours a day.
Heli Operations saved the Portland helicopter base site at Osprey Quay last year and it will now be used as a refuelling facility.